Music composer Wajid Khan passes away at 42 today, Bollywood expresses condolences to this legend
Music composer and singer Wajid Khan passed away today at 42 due to kidney failure and novel infection spread. He was known for creating popular Bollywood songs with his brother Sajid. He was facing kidney problems for quite a long time.
Music composer Salim Merchant was the first to confirm this and he also shared that he was admitted to a medical center in Chembur where he took his last breath. After hearing this, Bollywood expressed condolences to this legend. Numerous popular celebrities including Amitabh Bachchan, Priyanka Chopra, Varun Dhawan, and many others expressed grief. Check out tweets of Bollywood celebrities:salim merchant✔@salim_merchant
Devastated with the news of the passing away of my brother Wajid of Sajid -Wajid fame. May Allah give strength to the family



Safe travels bro @wajidkhan7 you've gone too soon. It's a huge loss to our fraternity. I'm shocked & broken .

Inna Lillahi wa inna ilayhi raji'un4,983Twitter Ads info and privacy1,363 people are talking about thisPRIYANKA✔@priyankachopra
Terrible news. The one thing I will always remember is Wajid bhai's laugh. Always smiling. Gone too soon. My condolences to his family and everyone grieving. Rest in peace my friend. You are in my thoughts and prayers.@wajidkhan721.7KTwitter Ads info and privacy1,613 people are talking about thisParineeti Chopra✔@ParineetiChopra
Wajid Bhai you were the nicest, nicest nicest man! Always smiling. Always singing. All heart. Every music session with him was memorable. You will truly be missed wajid bhai.


#WajidKhan8,161Twitter Ads info and privacy687 people are talking about thisAmitabh Bachchan✔@SrBachchan
T 3548 – Shocked at the passing of Wajid Khan .. a bright smiling talent passes away .. duas , prayers and in condolence



25.9KTwitter Ads info and privacy2,107 people are talking about thisVarun Dhawan✔@Varun_dvn
shocked hearing this news @wajidkhan7 bhai was extremely close to me and my family. He was one of the most positive people to be around. We will miss u Wajid bhai thank u for the music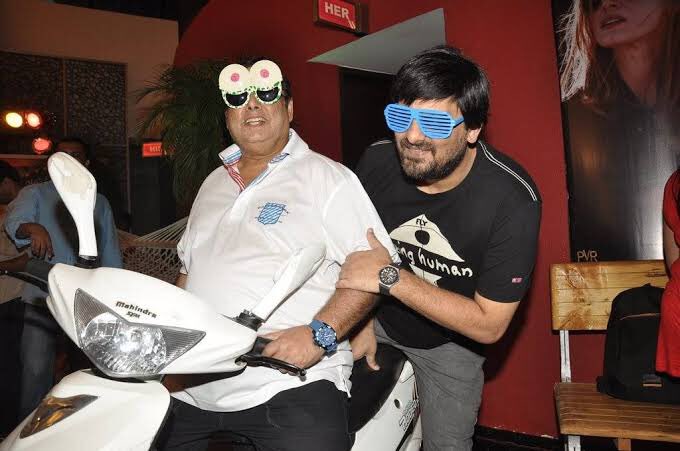 14.9KTwitter Ads info and privacy1,133 people are talking about thisVISHAL DADLANI✔@VishalDadlani
Hard to believe we won't meet again, talk again, laugh again, @wajidkhan7 (in front, in the picture).

sajidk21 my brother, you will never be alone and our brother will never be forgotten. https://www.instagram.com/p/CA3cBqJDvkF/?igshid=1rl5lqt3notzd …1,045Twitter Ads info and privacy131 people are talking about this
Wajid Khan's close friend, Vishal Dadlani also tweeted and wrote— 'Hard to believe we won't meet again, talk again, laugh again, @wajidkhan7. Sajidk21 my brother, you will never be alone and our brother will never be forgotten.'
Salim Merchant had words with media and he revealed that he was on the ventilator for the past 4 days and he also had a transplant a while ago. His condition got critical due to growing kidney infection.
Wajid also did playback for many popular songs of Bollywood including Mera Hi Jalwa, Fevicol Se, Chinta Ta Chita Chita, and many more others. Wajid and his brother Sajid was served as mentors for TV singing reality shows like Sa Re Ga Ma Pa 2012 and Sa Re Ga Ma Pa Singing Superstar.